Dana Sanders, left, talks with artist Martin Blundell at his booth during Art at The Park at This Is The Place Heritage Park in Salt Lake City on Friday. (Ben B. Brown, Deseret News)
Estimated reading time: 4-5 minutes
SALT LAKE CITY — Place Heritage Park has been transformed into a haven for art lovers, featuring more than 80 Utah artists selling and creating art at their booths.
From landscapes to portraits to expressionist stories, hundreds of diverse works of art are on display and for sale at this weekend's Art at The Park event.
Rob Chipman, organizer of Art at The Park and president of the Intermountain Society of Artists, said this event has been three years in the making. He described Art in the Park as an event organized by artists for art lovers.
"We've featured some of the best artists in Utah," Chipman said. "It's a sensory overload to walk down the aisle because everyone's work is so spectacular."
Chipman himself is an artist who has a booth with reduced block prints, a style of artwork made by carving a block and printing layers to achieve a final overall picture.
Artwork at the event includes watercolor, acrylic, oil, glassware, prints, encaustic, mixed media, and pen and ink drawings. Thursday evening kicked off the event with a VIP show for the artists, where collectors came to see the artworks for the first time before they were opened to the public. Many of the artists sold multiple pieces of art during the VIP event.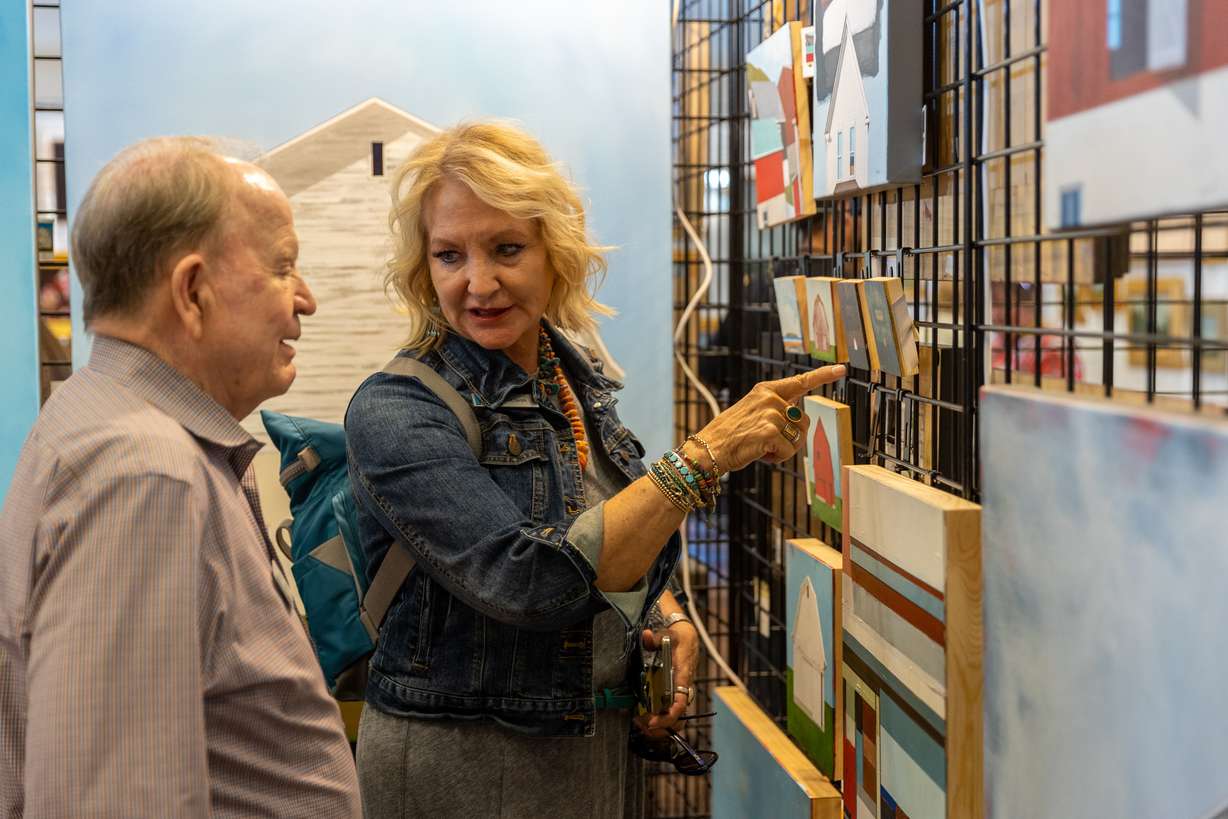 For some artists, the subject matter is what propels their artwork into existence.
Artist Sarah Ashley Peterson started doing graphic design in school, but realized she just liked working with art physically, not on a computer. Raised in Idaho, she loves the mountains, the outdoors and nature.
Her artwork incorporates both of her sides, combining large graphic elements with mountains and nature scenes in a combination of woodworking, drawing and painting.
"I'm pretty new to the art world, but it was amazing and I loved it," Peterson said.
Some artists create art because of how it makes them feel.
Becky Tobiason is a mother of eight who only recently had time to explore her art. She said art became an obsession for her because it was "a healthy place to pour out your emotions. It's so healing."
The main story her art tells is that even though life can be really dark and difficult, there are always glorious and beautiful shining spots that emerge. Her stand is full of large emotional paintings of storms, sunsets and symbolic hopeful stories, highlighting the contrast between dark and light.
Tobiason also dabbled in religious art. One of her works depicts Ruth and Naomi from the Bible. She said she was commissioned to do this piece for the book "Women Who Believe" by Heather B. Moore and Angela Eshler.
For Lynette Nichols, her story drives her art. Nichols married into the White Mountain Apache tribe and spent 25 years on the Fort Apache Indian Reservation. After being immersed in the culture for so long, she experienced culture shock when she moved eight years ago and missed the culture.
"I wanted to start painting, and I knew I wanted to do nature, but I knew I wanted it to have a local influence that reflected my experience on the reservation," she said. She calls her art "mixed with nature" because of the Native American design that blends into her highly detailed depictions of nature.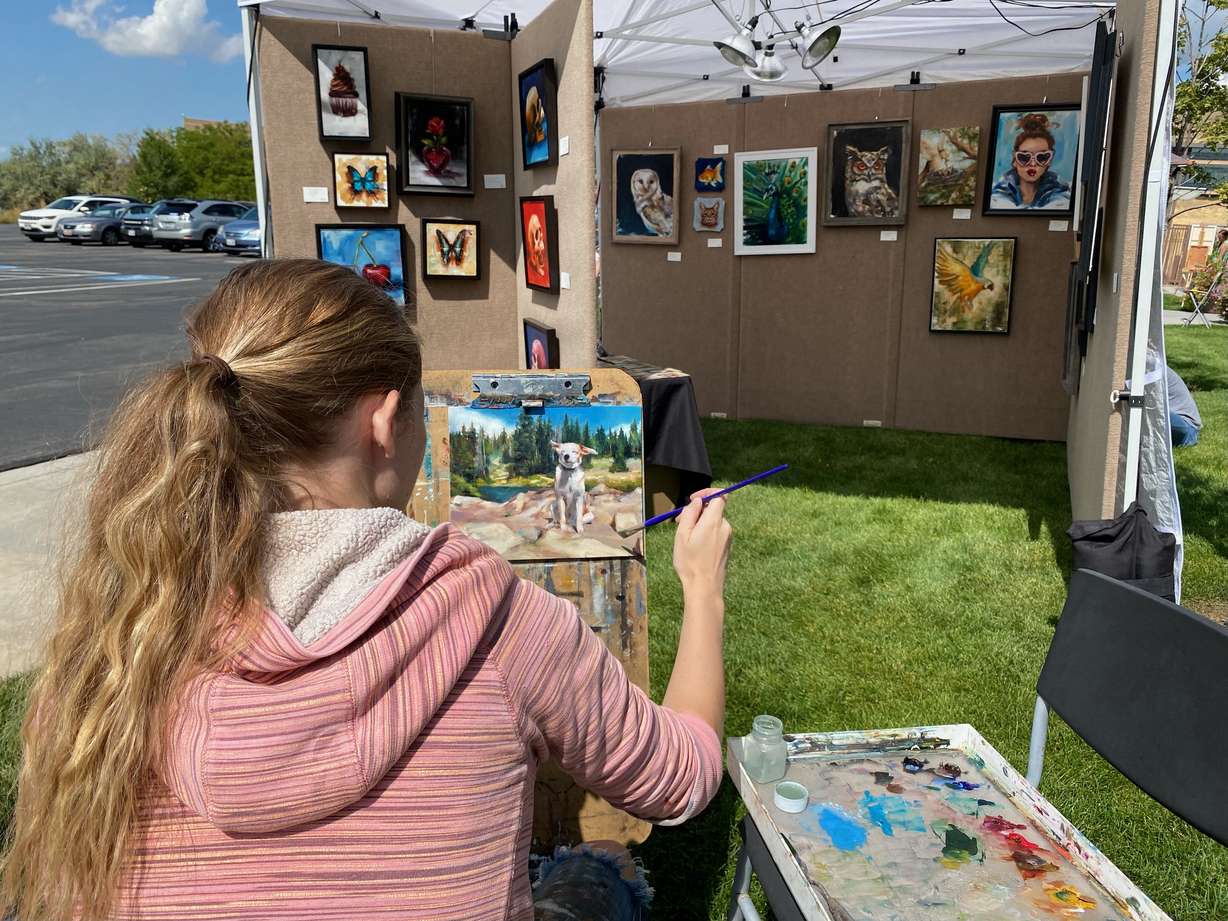 Other artists create art just because they love to do it.
Heather Olsen has drawn and painted all her life and was thrilled when she realized she could make art her full-time job. A professional artist for seven years, she enjoys painting expressionistic portraits of people and animals.
Olsen said this event is a fun opportunity to see the diversity of local art in Utah, interact with the artists and potentially acquire some unique pieces.
While some artists have been painting all their lives, others are just breaking into the artistic world.
Elizabeth Walsh is an emerging artist who decided to start painting during the pandemic when she had a lot of time. Her style is an abstract look at landscapes, giving western art a modern twist with dots of color and gold leaf in the sky and turning the mountains black and white to make them pop.
"People are very nice, they're always very curious," Walsh said of the interaction she's experienced so far. "My stuff stands out a little bit differently than others, so it's interesting to see how that's received, and overall it's very positive."
Art at The Park will be open until 9pm on Friday and 10am to 6pm on Saturday.
×
Pictures
The latest arts and entertainment stories
More stories you might be interested in