COLUMBIA — Verizon Wireless will work with the University of South Carolina to research and test new uses of the wireless provider's 5G network technology in the healthcare, manufacturing and infrastructure industries.
The partnership to create the Innovation Experience Hub, one of five such Verizon University Centers in the country, is the latest corporate deal signed by USC and its Office of Economic Engagement.
The state's largest university system also has partnerships with IBM, Siemens, Yaskawa Motoman Robotics, Nephron Pharmaceuticals and others in which its students and researchers work with the partner companies' technologies to help solve problems for industry and help these businesses to innovate.
"Our relationship with Verizon exemplifies the benefits of partnerships between the University of South Carolina and the business community," said University President Michael Amiridis. "This is consistent with our focus on expanding research capabilities that solve problems and accelerate discoveries."
The Innovation Experience Hub will be housed in USC's McNair Center, which Verizon has equipped with a private network that increases capacity and speeds for big data transfers.
"South Carolina industries across many different sectors can engage with us to explore emerging technologies in an atmosphere that minimizes corporate risk and allows them to evaluate the impact of the new business solutions we offer," Amiridis said.
The school will immediately begin using 5G connectivity to enhance some of the existing uses it has helped develop in manufacturing, including a visual inspection tool that detects defects in painted automotive parts used by the state's automakers.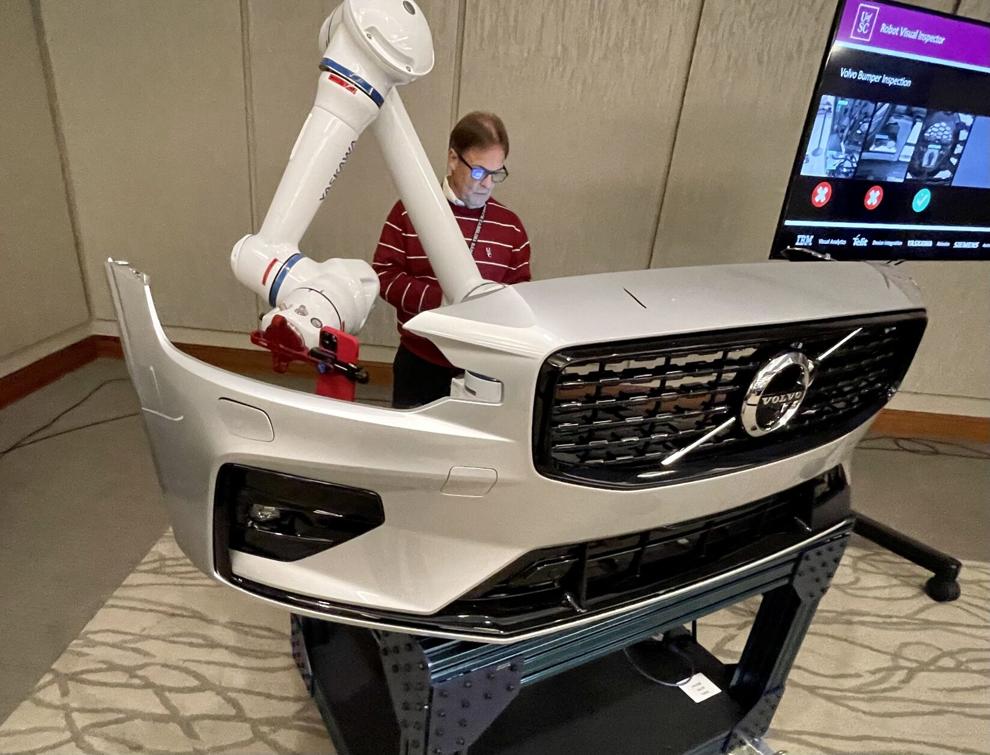 USC will also begin testing how 5G can improve remote health monitoring for real-time analysis of patients' vital signs. It will also offer hospitals the technology its nursing students helped develop so facilities can digitally monitor vital equipment.
As for civil infrastructure, the school will study the use of 5G in drone visual inspections and analysis of roads, bridges and buildings.
"We at Verizon believe that 5G is the backbone of the economy's digital future, and we couldn't be more excited to bring its power to this research community," said Jennifer Artley, Verizon Business Senior Vice President of 5G Acceleration. "We can accelerate innovation for entire industries and we can transform the way companies operate and grow… The array of solutions on display will really show you how we can revolutionize the factory floor, how we can transform the healthcare experience and how we can help companies to significantly reduce downtime and reduce costs."
Some of the technologies that will be used at the center include artificial intelligence, computer vision and augmented reality, Artley said.
Students take advantage of the opportunity to learn the latest technologies, and many are often hired by industry partners after graduation, said Bill Kirkland, executive director of the Office of Economic Engagement.
"The student experience here is amazing because they helped build the solutions," Kirkland said.
Other universities Verizon has partnered with in this way include Wichita State University, which is focusing on 5G-related manufacturing uses; Arizona State University, which focuses on the use of virtual reality in teaching; The University of Illinois Urbana-Champaign, which focuses on robotics; and Emory University, which focuses on health care.
Kirkland said Verizon approached USC about creating a similar program in South Carolina after seeing the school's work with other large corporations.
Verizon will be able to combine its technology with that of other USC partners, such as IBM, to sell a full suite of products to companies that come to the school looking for help with a problem.
"South Carolina's economic success is built on our talented entrepreneurs and innovators, making one of our state's leading research universities the perfect partner for Verizon on this project," said Governor Henry McMaster. "Combine that with the expertise of our university researchers and the power of private sector innovation, and we can achieve great things for businesses large and small in South Carolina."